Javier Salinas joined the Life Preservers Project's Artist Collective because he had never donated work towards a charitable movement before and the cause behind it was something that piqued his interest.
As a toddler Javier was separated from his mother briefly when they were immigrating from Chile. His immigration from his native Chile would have failed had he not been escorted across the border by a woman that he believes in his heart was an honest person. Currently here under Deferred Action for Childhood Arrivals (DACA), the recent political pressures have had him on somewhat of an emotional rollercoaster. In defiance of the turmoil he has been facing, Javier has managed to persevere in many aspects of his life. He is currently back in school focusing on his studies and has made vast progress over the year in his art work. A firm believer that art is driven by emotion, that is clear and present within his creations.
His early influences as a child include Pokémon and Dragon Ball Z. In High School, through self-respect and self-love, Javier learned to accept himself as a gay man. This led to his art becoming therapeutic and eventually him finding friendship and solace within it.
While attempting to develop a tarot card image, that he felt was too dark, Javier had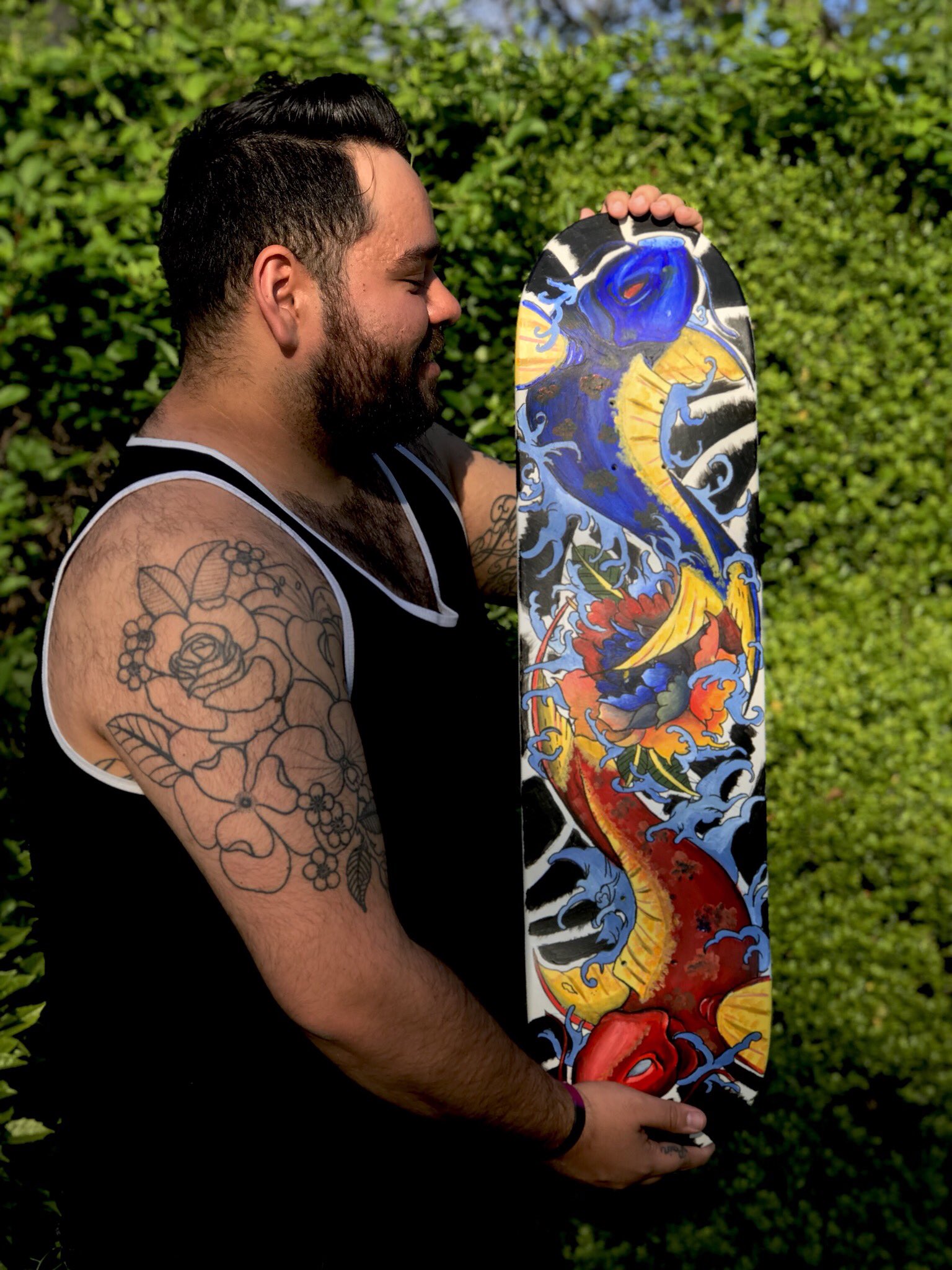 stumbled across a drawing of a koi fish in one of his old sketchbooks while displaying it on YouTube. This depiction of a koi had instantly resonated with him. The Japanese myth of the koi fish is one of determination and perseverance. The story is told that many koi swam upstream fighting the current of the river when they eventually reached a waterfall. Some saw this as the end and let the river carry them away, others tried to jump to the top of it refusing to give up. After centuries of trying to reach the top, one koi succeeded. This special fish was rewarded and transformed into a dragon for its dedication. Javier Salinas feels strongly that this symbolizes his quest and the journey of many survivors of human trafficking.
For the 9th Annual Summer Art Auction and Benefit, Javier has created a painting of koi fish on a standard skate deck. The skate deck will be available for bidding during our silent auction.
Follow Javier on Twitter: @onemoonbird1 and YouTube: One Moon Bird
Learn more and get your ticket to attend. Tickets are $20 in advance and $25 at the door. All ticket purchases are considered a charitable donation and are tax deductible.
Can't join us? Please consider a donation to help us continue serving victims of human trafficking in the NYC area.